Alhamdulillah we are now living happily in our new crib at Maidstone.My house still dont have enough furniture yet because we are running off money!ok where should i begin anyway?
Ok rumah ni kecik je ade la standart teres tu je ..tp ok la syukur akhirnye duduk jugak rumah sendiri bersama suami setelah setahun tinggal bersama rakan2 atlit di kediaman khas di Melbourne..
Hubby khususnya nampak sangat seronok and rajin.Everyday membersih laman..kihkihkih..jiran2 super cool and semuanya mempunyai kucing kecuali rumah kami..dah mintak kt suami but not sure he will approve or not...
So makanan stok raya mmg kaw kaw punye banyak..my parents mmg suka pos makanan dkt anak3 die...so itulah kopi radix pun ada jgn tak tau yee..tp tak tau la smp bile stock ni boleh bertahan..huuuu
Apart from that,our house is nearly kemas tp x kemas mane pun sbb sejuk sangat n x boleh pakai heater nnti letrik mahal..lol poyo!that caligraphy we bought from Mecca.
So yeah..dlm kelam kabut mengemas..rutin seharian sebagai isteri utk menjamu suami berbuka puasa..byk ok lauk i masak..huhu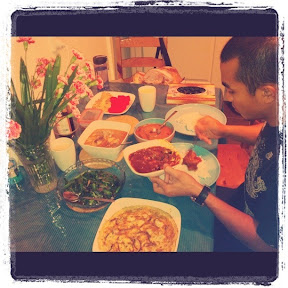 Azizul favourite food is khailan ikan masin..mmg selalu gile request..
And yeah i made it to make my 1st kuih lapis..sdap ok..lazat berkerim gituu...itu kata suami i la..not meh...huhu
Last but not least,hubby now already started his class..so gini laaa rutin harian sebelum tido n bangun tido..study!!!so hows your ramadan going on now?i miss Malaysia tolonglah!!and i wanna work plssssss get me a work ...
- Posted using BlogPress from my iPhone